Chair Rentals: The BIG impact of a chair style
Most people have never planned a wedding before and don't realize that some items make a BIG impact – chairs are one of them. Fancy chair rentals can really elevate your design. If there isn't room in the budget for this consider a premium chair option for your head table and more cost-effective seating for guest tables. Your head table will be the focus of not only your guest's attention but also your photographer's. Some of the most popular chair rental options include wood cross back chairs, chiavari chairs (silver, gold, or black) or our newest chair style, the antique natural wood infinity chair. These chair rentals all have cushions which also add comfort for you and your guests. The wood cross back chair rental can be rented without the cushion. This would be a great option if you prefer the all wood look for a more earthy or woodsy feel. Though these chair rentals are most impactful on at a reception they are also a stunning option to elevate your outdoor ceremony. For outdoor tent weddings the chairs can be moved to the reception tent afterwards with the help of a wedding coordinator or family and friends.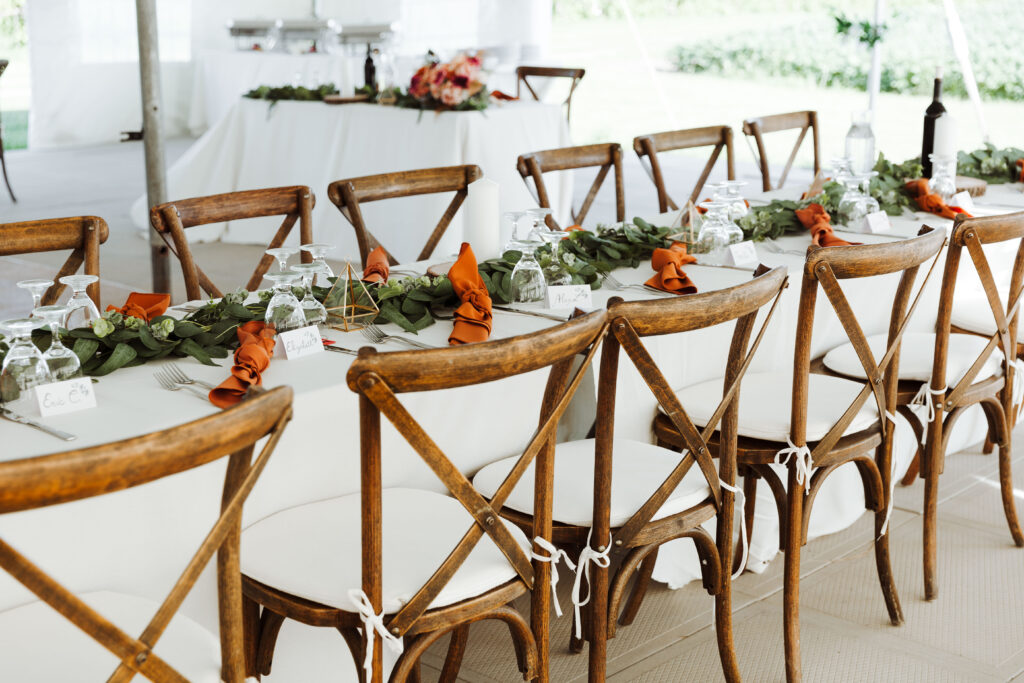 AREAS WE SERVICE:
We service all over Renfrew County and the Ottawa Valley with our tent rentals including the following areas: Pembroke, Petawawa, Deep River, Chalk River, Cobden, Beachburg, Westmeath, Renfrew, Arnprior, Calabogie, White Lake, Kinburn, Mississippi Mills, Carp, Whitney, Madawaska, Maynooth, Combermere, Barry's Bay, Wilno, Killaloe, Golden Lake, Eganville, Lake Clear, Foymount, Bancroft, Boulter, Hardwood Lake, Palmer Rapids, Matawatchan, Denbigh, McArthurs Mills, Allumettes Island, Chapeau, Fort-Coulonge, Campbell's Bay, Shawville, Bristol, Quyon, Otter Lake, Lady's Smith.
Delivery fee varies with Location.
Our sister company Parvati & Athena Events also knows the impact of chair style on the overall design of your wedding. Read their blog here on this as well.